Frequently Asked Questions
Overview
General Overview
Wandrer is the game you win by going places you've never been before. The main rule is: you get credit for every road you travel, but only once.
Create accounts on Wandrer and Strava. Next, link your Strava account to Wandrer using the "Linked Accounts" section of your Wandrer Settings page .
Wandrers using a free account can sync 50 past actvities from Strava, participate in Explorer Activities, and download 10 maps for GPS devices. More details are available on the
Subscription page
.
Upgraded Wandrers get all historical activities processed, unlimited downloadable maps for GPS computers, and access to the Wandrer Browser Extension to display traveled and untraveled roads in popular routing tools. Upgraded Wandrers also get priority processing of activities, can participate in Monthly & Yearly Challenges for extra points, and can view Super Unique and Never Traveled roads. More details are available at your
Subscription page
.
Briefly,
Craig
started a project to ride every single road in our home city in 2016. He created a web app to access his Strava data, match the GPS traces to roads, and keep track of his progress. Others were interested in seeing these statistics for their hikes, runs, and rides and Wandrer was born. Read more on our
About page
.
You can read our
About page
to learn more about the history of and people behind Wandrer. We post updates on
our blog
and
Instagram
. You can connect with other Wandrers via the
Reddit
and
Strava
groups.
If your question is not answered by this Frequently Asked Questions page, then your best bet is to
email Craig
and he'll try to help. You can also ask other Wandrers for help via the
Reddit
and
Strava
groups. Craig and Pearl participate in both groups but do not monitor them as closely as email.
We sell Wandrer-branded stickers and patches at store.wandrer.earth. You can access this link through the footer on our website. Proceeds help us improve Wandrer!

Scoring
Scoring Overview
Wandrer is scored on the number of unique roads that you travel. You can travel by bicycle or on foot. You have to cover new ground in order to earn more points.
Wandrer tracks your progress traveling on new roads separately for cycling and walking/hiking/running. You thus earn points towards three different scores: Foot, Bicycle, and Combined.
You can earn points in two ways.
Travel on new roads. 1 mile = 1 point.
Complete Achievements.
Achievements are special areas you can complete and tasks you can perform that earn you additional points on top of the points you receive for your miles. There are three types of Achievements in Wandrer: Explorer Achievements, Monthly Challenges, and Yearly Challenges.
Explorer Achievements
Explorer Achievements are established areas and long-distance routes where you can earn Points Bonuses as you travel the roads that make up these areas/routes. The included areas are neighborhoods and small towns. The long distance routes are established cycling and hiking routes, such as the Eurovelo Cycling Routes and the Appalachian Trail.
Explorer Achievement Points Bonuses are awarded for completing 25%, 50%, 75%, 90%, and 99% of the roads within the Explorer Achievement. The Points Bonus varies by percentage. The total number of Bonus Points you can earn for an Explorer Achievement equals the number of miles of road that the Achievement contains. Thus, completing Explorer Achievements allows you to earn
double points
for those miles.
| Percentage Completed | Points Bonus |
| --- | --- |
| 25% | 25% bonus |
| 50% | 5% bonus |
| 75% | 10% bonus |
| 90% | 50% bonus |
| 99% | 10% bonus |
Explorer Achievement Points Bonuses are awarded separately for each activity type. For example, you will earn a points bonus when you complete 25% of the foot-accessible roads within that Achievement on foot. The bonus will be applied to your Foot Activities score. A separate points bonus will be added to your Bike Activities score when you complete 25% of the bike-accessible roads within that same region. And finally, you will earn another points bonus for your Combined Activities score when you complete 25% of the region's bike and foot roads.
The total length of roads accessible on foot or on bicycle will be different within a given area, since some roads can be walked but not biked (and vice versa). The Points Bonuses are worth 100% of the accessible distance for each activity type.
Explorer Achievements predominantly come from OpenStreetMap data. We also use local GIS departments to get neighborhood and city boundaries when that data is not availble in OpenStreetMap.
We'd love to add more Explorer Achievements where they're sparse. If you reach out to Craig, he can help you add more neighborhoods, city boundaries, or long-distance trails to your area. If you've already identified the data, that will greatly help us get the Explorer Achievements added!
Monthly and Yearly Challenges
Monthly and Yearly Challenges are Points Bonuses awarded to the top 3 Wandrers with the most number of new kilometers in a region during a month or calendar year.
The Points Bonus is determined by the number of Wandrers who complete an activity within a region during that time period. First place earns 1 point per participant, second place earns 0.25 points per participant, and third place earns 0.1 points per participant. A participant is any Wandrer who completes an activity in the region during that time frame.
Upgraded users are eligible for Monthly and Yearly challenges.
Activities
Activity Processing
The following types of Strava activities are imported and processed:
Bike: Ride, EBikeRide, Handcycle, Velomobile
Foot:Hike, Walk, Run, Snowshoe, Wheelchair
We do not import and process Strava "workouts" because these activities do not make it clear what you've done.
If you recently completed an activity that is missing from Wandrer, here is a workflow to figure out what to do.
Has the activity been uploaded to and processed by Strava? If it's not on Strava, then Wandrer can't process it.
Has Wandrer downloaded the activity from Strava? This information is available on the Settings page in the "Linked Accounts" section. If you have no activities that have been downloaded from Strava but are unprocessed, select the "Check for activities" link to trigger a search for missing activities.
If your activity has been downloaded from Strava but is not yet processed, then you'll want to check back again in a few hours. Activity processing can be slower on the weekend, when lots of folks are getting out and exploring. Keep in mind that upgraded Wandrers get faster activity processing.
Wandrer checks for activities from the last two weeks automatically. However, if you've recently added older activities to your Strava account that you'd like Wandrer to process, you'll need to trigger a search to bring these into Wandrer. On your Settings page in the "Linked Accounts" section, select the "Check for activities" link to import and process these activities. Wandrers using free accounts may only import 50 past activities.
Setting your GPS device to record 1 time per second and turning off smart tracking may improve the quality of road matching in Wandrer.
The Map
Map Rules and Data
Roads that are legally accessible by bicycle or foot should be included in the corresponding Wandrer map.
Yes! If you can legally travel a trail on a bicycle, it should be included in the Wandrer Bike Map. The same applies for the Foot Map if the trail is allowed to be walked/run/hiked.
We use OpenStreetMap data to identify bike- and foot-accessible roads and trails.
OpenStreetMap (OSM)
is a community mapping program where everyone can help map the world. The data is used by thousands of organizations and companies -- pretty much any map data you see on the internet that isn't from Apple or Google is from OSM. You can read more about OSM
here
.
Multiple elements comprise OpenStreetMap data. For the purposes of understanding how Wandrer interprets OSM data, it's useful to understand these elements:
Nodes: single point geographic locations defined by a latitude and longitude.
Ways: multiple connected nodes labeled by descriptive tags. Relevance to Wandrer: roads and trails are encoded as ways in OpenStreetMap.
Relations: complex shapes defined by a set of nodes, ways, and/or relations that are related. Relevance to Wandrer: long-distance trails and bike routes are encoded as relations.
More details on the OSM data structure is available at
their Beginner's Guide
.
In OpenStreetMap (OSM), roads and trails are labeled with a "highway" tag. We filter the OSM data for a region to identify all ways tagged with "highway" and then apply a set of rules designed to filter these highways to identify what can be accessed legally on foot / bicycle. The rules we use for the foot and bicycle map are
available for you to read
.
Since our data is based on OpenStreetMap, you need to investigate the road in question in OSM. Navigate to the region in OSM and use the Query Features tool to identify the tags on the road. The following questions are helpful:
Based on Wandrer's filtering rules for the Bike / Foot map, should the road be included or excluded in the Bike / Foot map?
Are the OSM tags on the road accurate? Common example: does an access tag need to be added to indicate private access?
Was the road recently edited? Does the Wandrer map need to be updated to incorporate any recent changes?
If necessary, you can edit OSM to correct any errors and then request an update to the Wandrer map for that region. The
OpenStreetMap Beginner's Guide
may be helpful. Please follow
OpenStreetMap Good Practices
.
There are a number of reasons you may not get credit for a particular road.
The road is not included in the Wandrer Foot / Bike Map because it is not legally accessible by bike / on foot. Use the Untraveled Roads layer to see which roads in your region are in our database that you have not traveled.
You traveled the road by bicycle but are viewing the Wandrer Foot Map (or vice versa).
The OpenStreetMap data for that road is accurate but the Wandrer map for the region needs to be updated.
The OpenStreetMap data for that road needs to be updated followed by a Wandrer map update for the region.
Your GPS points from traveling on that road matched to a parallel road. Contact us if you think this has happened to you.
Extra Lost Features
GPS Computer Maps
You can download maps that highlight your untraveled roads on a Wahoo or Garmin GPS computer. You can also export in the KML/KMZ style for import into other mapping software, such as Google Earth. A Wandrer app is available for Hammerhead Karoo devices with a SIM card. These local maps / apps allow you to see your untraveled roads "on the fly", which means you can pick up extra miles without planning a dedicated route.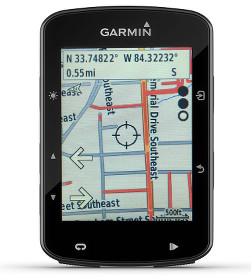 An example of Wandrer data on a Garmin GPS computer.
Navigate to the region you would like to download on the Wandrer Big Map. Then click on the Download button . Select the type of map you'd like to download, the activity type you're interested in, your display preferences as applicable, and then select "Continue". The map and installation instructions will be emailed to you. If you have a Wahoo computer, installation instructions are also available
as a video
.
The Wandrer app for the Hammerhead Karoo will highlight your untraveled and traveled roads for a given region. Viewing the data requires an internet connection. For this reason, you'll need a SIM card to view your Wandrer data on-the-go. Installation instructions are available
on this page
.
Wandrer Browser Extension
The Wandrer Browser Extension allows you to view your Wandrer data in several popular route planning tools to help you maximize new roads during your walks/runs/rides. We have extensions for both Chrome and Firefox.
The extension works with tools such as RideWithGPS, Strava, Komoot, Garmin Connect, Plotaroute, BikeRouter/BRouter, MapMyRide/MapMyRun, Bikemap, and dynamicWatch.
Please
get in touch
if you notice that the extension stops working in your favorite route planning tool. Often the extension stops working when a routing tool website has been updated. We can usually update the Browser Extension so that it works again with that website. In the meantime, an alternate routing tool may work for you to plan your maximally lost route. The full list of supported route planning tools is available
here
.